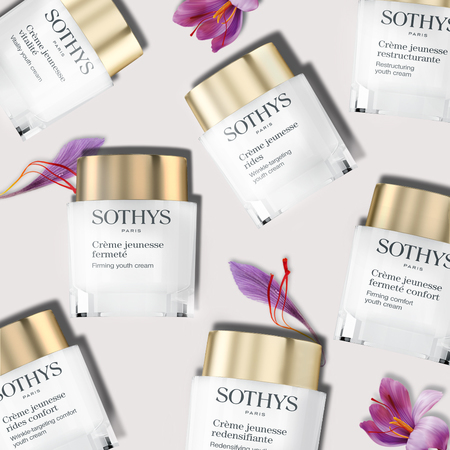 Draw out the best from the Saffron flower and extract the molecules with cosmetic benefits antioxidant.
By-products of saffron production
, polyphenols are extracted by an eco-responsible process from dried saffron flowers. They are a real trap for free radicals. Innovation from
Sothys Advanced Research
to be found in the Youth & cabin range with the Intensive Youth Treatment.
FROM THE FLOWER TO THE SOTHYS ACTIVE INGREDIENT.
The saffron flower is cultivated in Quercy, a region preserved in the heart of nature, by
45 producers
:
- Recovery  of an environmental by-product.
Obtaining one kilogram of saffron requires 300 kg of flowers. An eco-responsible approach has therefore been put forward with the aim of enhancing the value of flowers, a product which today is wasted.
- Eco-responsible extraction
process
.
THREE YEARS OF RESEARCH:
Expertise in plant development in south-west France
Partnership with the CVA and collaboration with the University of Limoges.